Botox
BOTOX (onabotulinumtoxinA) is a prescription medicine that is injected into muscles and used to temporarily improve the look of moderate to severe frown lines between the eyebrows and moderate to severe crow's feet lines in adults. Wrinkles result from a combination of many factors. It's not just about cellular changes, collagen depletion, or damage caused by free radicals. When you frown or concentrate, the muscles between your brows contract, causing your skin to furrow and fold. And when you squint, the muscles around your eyes contract and cause crow's feet.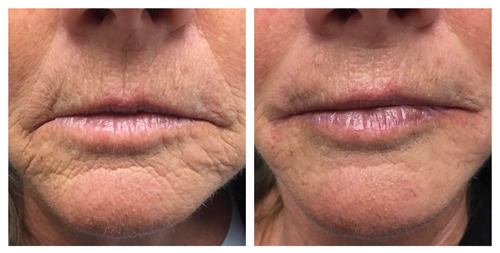 BOTOX works beneath the skin's surface and targets the underlying muscle activity that causes frown lines and crow's feet to form over time. The procedure takes approximately 10 minutes after consultation, and you are able to resume your day. BOTOX has therapeutic uses too! BOTOX is FDA approved to treat chronic headache sufferers.
Juvederm
JUVÉDERM is a smooth gel dermal filler used to instantly smooth away wrinkles around your mouth and nose. With just one treatment, you'll get smooth and natural-looking results that last up to a year. JUVÉDERM is manufactured using HYLACROSS™ technology, creating a smooth-consistency gel. It is infused with lidocaine to improve comfort during treatment. Young, healthy-looking skin contains an abundance of a naturally hydrating substance called hyaluronic acid (HA). As you age, sunlight and other factors can reduce the amount of HA in your skin. The lack of HA causes your skin to lose structure and volume, creating unwanted facial wrinkles and folds – like those parentheses lines around your nose and mouth. Using a dermal filler like JUVÉDERM® XC is a safe and effective way to replace the HA your skin has lost, bringing back its volume and smoothing away facial wrinkles and folds.